Iconic British brand MG launches the MG ZS EV family friendly fully electric car
MG Motor UK today announced its entry into the zero-emissions vehicle market with the first truly affordable, family friendly electric car. The new MG ZS EV has been designed to bring EV technology to a wider audience than ever before and represents an exciting new chapter in the MG story.
ZS EV is MG's most high-tech car ever, with the MG Pilot driver assistance suite setting new standards of specification and delivering exceptional value for money. ZS EV combines the spacious and practical design of the original ZS with a clean, efficient and dynamic electric powertrain. And with the first 1,000 retail customers in the UK being able to get behind the wheel from just $38,000 AUD, MG is bringing zero-emissions motoring to the people.
With a combined WLTP certified range of 265 kms and frequent rapid charging capability, families can enjoy the freedom to go anywhere in an electric car. MG is also proud to be offering ZS EV with its famous 7-year warranty which covers the car and the lithium-ion battery.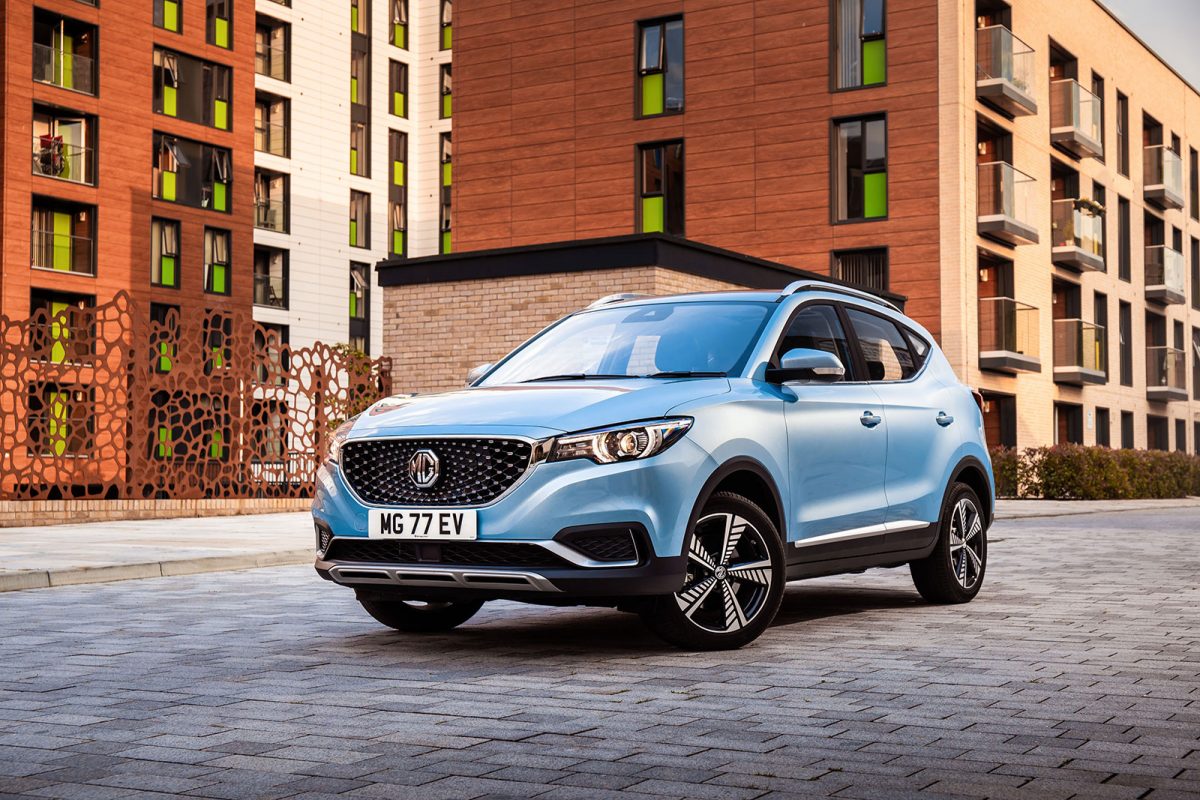 Packed with innovative features, ZS EV is designed to provide customers with a stress-free driving experience. MG Pilot is a driver assistance suite which complements the driver and offers support when required. Excite and Exclusive versions both include MG Pilot as standard, with features including Advanced Emergency Braking, Blindspot Monitoring, Lane Keep Assist and Adaptive Cruise Control.
ZS EV majors on interior space, making it ideal for busy families and those who value practicality. Boasting some of the most generous shoulder, leg and headroom in its class, the ZS EV also features a substantial, full-sized boot. With hidden storage areas, a split-level boot and practical features to keep items secure on the move, ZS EV can handle bikes, pushchairs, luggage and bulky loads with no trouble at all. In the cabin, the sky really is the limit with the panoramic, sliding Sky Roof offering uninterrupted access to the sunshine above, creating a bright and airy experience for the whole family.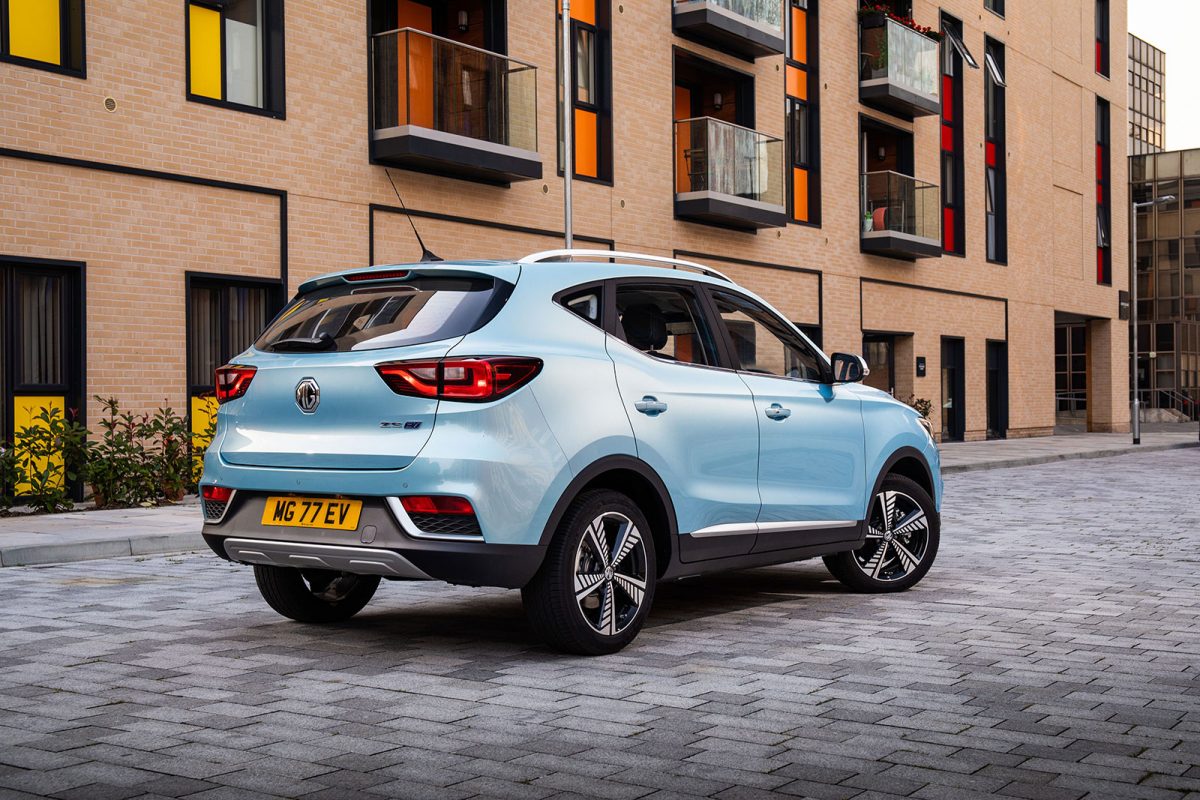 Customers will also enjoy the latest generation of MG's responsive infotainment system, with an 8" colour touchscreen featuring sat-nav, Android Auto, Apple CarPlay, Bluetooth phone connection with audio streaming and DAB radio.
ZS EV features an intelligently packaged and water-cooled 44.5 kWh lithium-ion battery pack, fed to a front-mounted electric motor which delivers 105 kW / 143 PS of power and 353 Nm of instant torque. Water-cooling manages the battery temperature allowing frequent rapid charging and optimum range whatever the weather. MG's ingenious packaging positions the battery pack underneath the car, meaning that there's no compromise in cabin or storage space.
This also results in a low centre of gravity, making ZS EV agile and dynamic through corners. While power and weight distribution are important, ZS EV also boasts some impressive technology to maximise range, efficiency and convenience for the driver. With three driving modes and three levels of regenerative braking, ZS EV can be tailored to suit the driver's preferences, making it the perfect companion for everyday driving.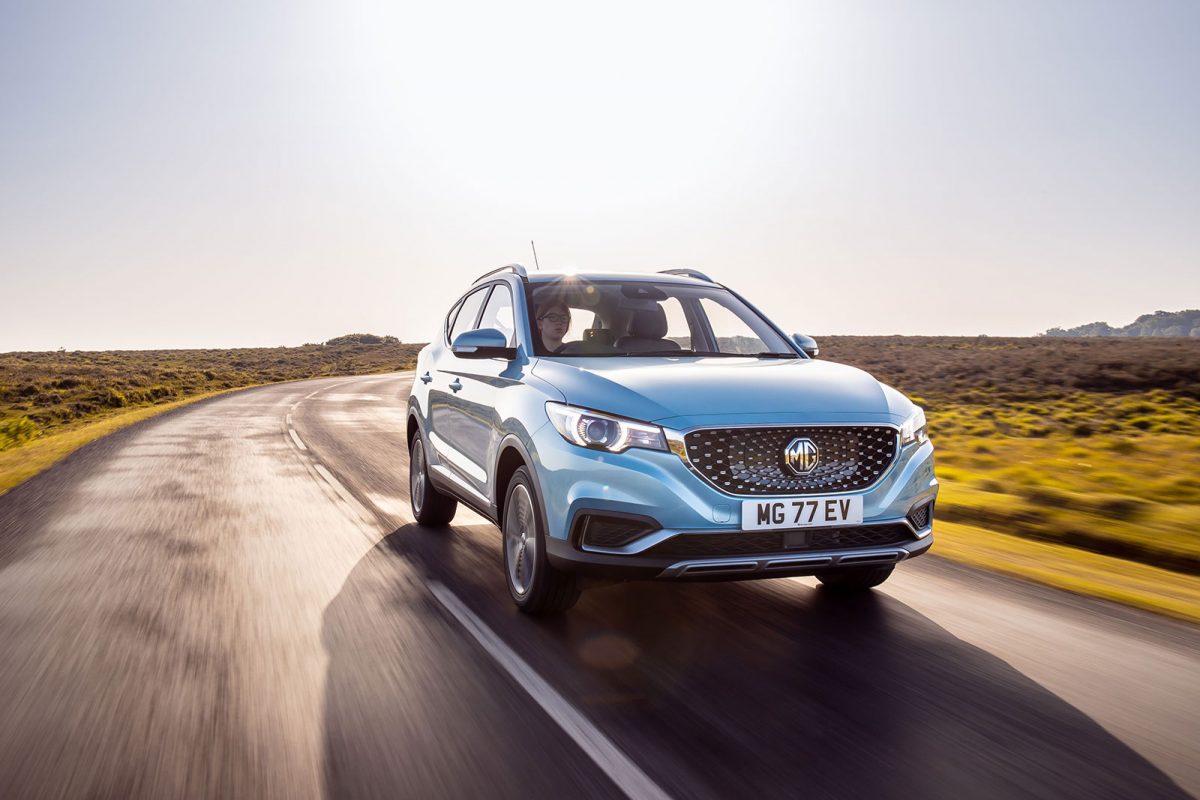 Both the car's internal and external styling elements make the ZS EV feel reassuringly MG. ZS EV sports the latest evolution of MG's distinctive star-rider grille which perfectly frames the famous octagonal logo. It also seamlessly integrates the CCS charging port. The new-style 17" alloy wheels are designed to be light and extremely aero-dynamic, helping to maximise range even further, and the choice of four exterior colours includes the new and vibrant Pimlico Blue.
Daniel Gregorious, Head of Sales & Marketing at MG, said: "With an exciting £21,495 price point at launch (in the UK), ZS EV is a compelling option for customers who want to switch from old school petrol and diesel cars and enjoy all the wonderful benefits of electric motoring. ZS EV is here to revolutionise the way people think about electric cars. With the first truly affordable, family friendly electric car, MG is bringing zero-emissions motoring within everyone's reach. Make no mistake, this car isn't a brand statement or a vanity project, we're here to sell electric cars and to sell big!"
UK based ZS EV customers deliveries will begin in September 2019.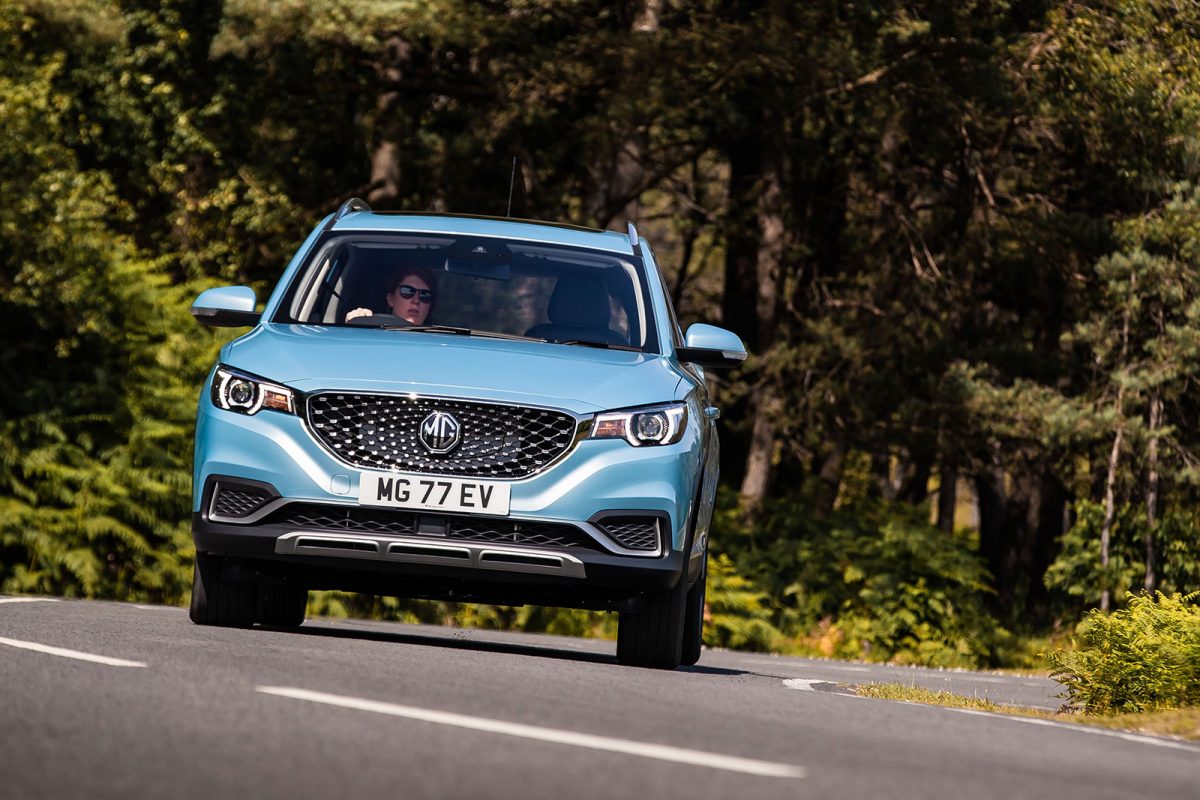 MG ZS EV – Made for the family
At last, a stylish, practical electric vehicle that's made with family in mind. ZS EV offers everything the modern family needs for the school run, weekend sports matches and adventures in the great British countryside with man's best friend.
With some of the most generous shoulder, leg and headroom in its segment, ZS EV offers a premium travelling experience for driver and passenger alike – providing around 55mm additional rear shoulder room and 80mm more rear headroom than the segment average. Thanks to the greater space provided by a flat floor, it's been possible to integrate additional floating storage under the centre console.
An incredible 448 litres of boot capacity (some 60 litres larger than the typical compact-SUV) – plus a split-level boot – provides plenty of room for prams, luggage, outdoor leisure equipment or the weekly shop. Keen cyclists and adventure sports fans will benefit from numerous compartments throughout the car, which provide additional storage, as well as folding seats to accommodate bigger, bulkier items. ZS EV does it all.
Opening the doors, drivers and passengers are welcomed to a spacious interior. Soft materials and contrasting shades create an inviting social space. A range of 3D shapes, metallic and chrome finishes, and carbon textures cast a dynamic design throughout the interior.
Exclusive versions feature a panoramic, sliding and opening Sky Roof which makes the interior feel light, airy and spacious. Also new to ZS EV is the Rotary Gear Selector, which allows drivers to effortlessly switch between three gears – Drive, Neutral and Reverse – and adds yet another premium touch to the cabin. A button in the centre of the dial places the car into Park mode.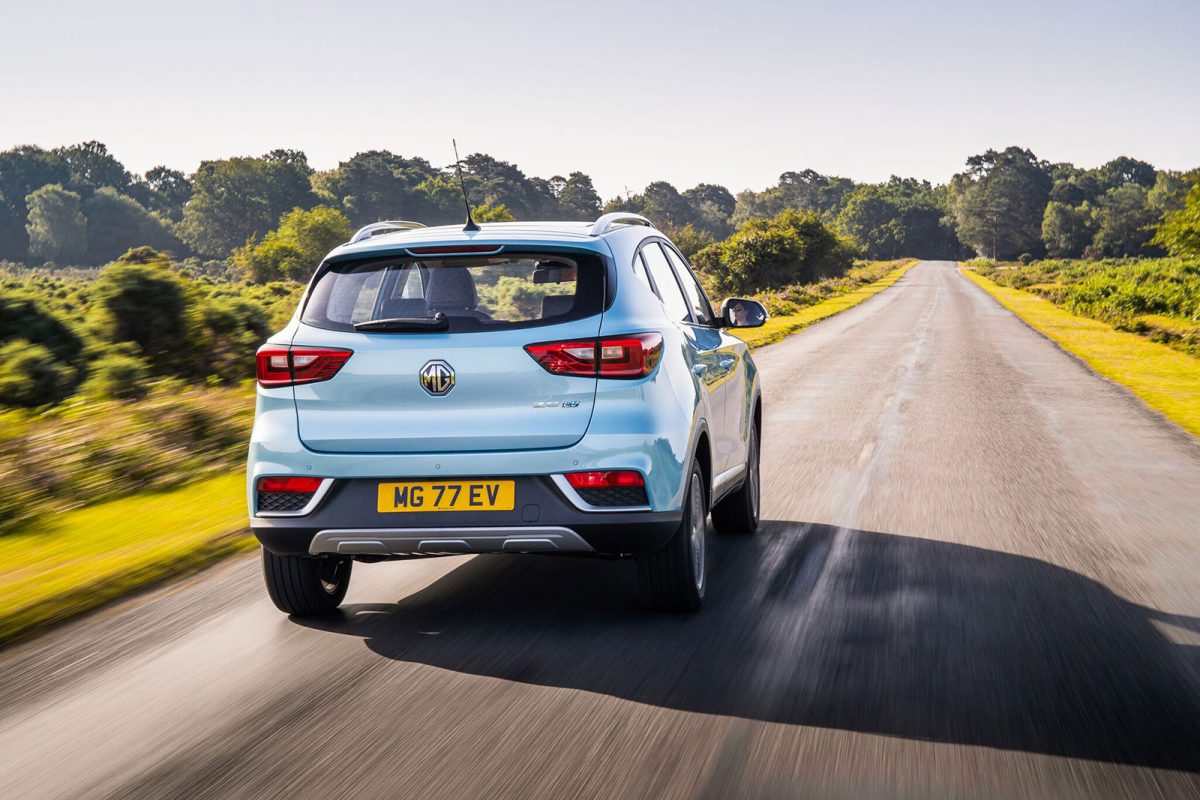 Despite its compact dimensions, ZS EV is one of the most spacious and practical vehicles in its class. Through intelligent engineering, ZS EV offers a generous cabin, allowing adults to sit comfortably both front and rear. Its boot space also outperforms many of its rivals, with 98 litres more than the Mazda CX3, 94 litres in addition to the Nissan Juke and 93 litres on top of the Ford EcoSport.
No other electric vehicle on the market delivers so much car for so little money. And with zero-emissions, owners will benefit from lower running costs and a family sized SUV which is more cost effective to maintain and is exceptional value for money.
Technology is key to the interior of ZS EV, with an advanced infotainment system taking centre stage in the dashboard. A large and intuitive 8" colour touchscreen features sat-nav together with Apple CarPlay™ and Android Auto™ connectivity, providing outstanding comfort and convenience. For ultimate ease, further controls can be found on the ergonomic steering wheel.
Leather-style seats offer premium comfort for the driver and passengers alike, while the elevated seating position, typical of an SUV, provides a commanding view of the road ahead. Exclusive versions bring even more premium equipment with heated and power adjustable front seats.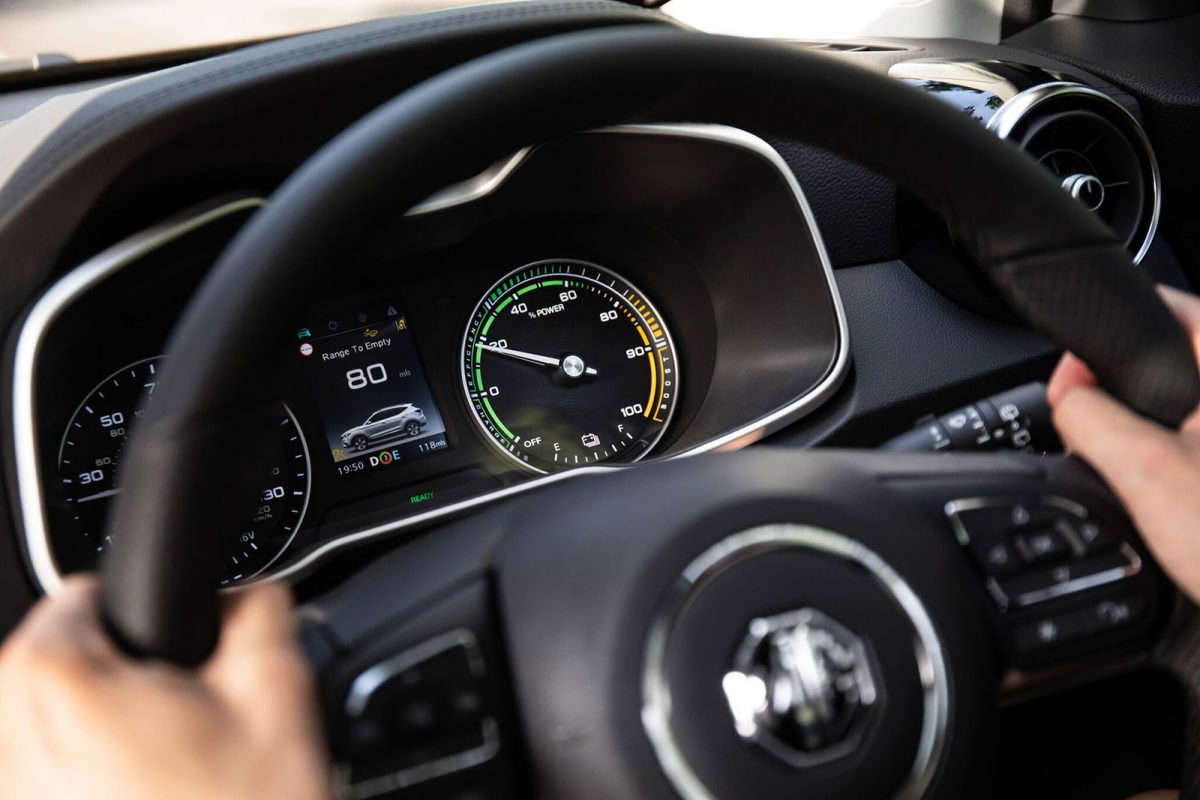 MG Pilot – Driver assistance suite
As a true family-friendly electric SUV, ZS EV is MG's most technologically advanced model to date, aiding drivers and protecting occupants with the MG Pilot driver assistance suite.
MG Pilot comes as standard on both Excite and Exclusive versions and includes Active Emergency Braking. At speeds below 12mph, the car will automatically deploy the vehicle's brakes to avoid a collision with a car, bicycle or pedestrian. At speeds above 12mph, the vehicle will reduce the likelihood or mitigate the severity of an accident.
Using an intelligent combination of multi-angled radars, MG Pilot is an excellent companion on long distance mile-munching journeys. Lane Keep Assist reads the road markings, holding the ZS EV safely within its lane. If the driver unintentionally strays outside of their lane, the Lane Departure Warning and Prevention system will alert the driver before actively preventing the vehicle from drifting into the path of other vehicles. MG Pilot will also intervene if it detects the car leaving the carriageway. Deploying the Emergency Lane Keep system, MG Pilot will provide steering input to ensure the vehicle remains on the tarmac. The 360-degree radar system will also detect if the car is being steered towards a vehicle in an adjoining lane, stepping in to prevent an accident occurring.
ZS EV customers will benefit from a relaxed driving experience thanks to MG Pilot's Adaptive Cruise Control. By setting the target speed and following distance, the driver instructs MG Pilot to automatically adjust the car's speed to maintain a safe distance from the vehicle ahead. If the road clears, MG Pilot will accelerate to and maintain the set speed. When the Adaptive Cruise Control is active, the Integrated Cruise Assist, at speeds above 61 km/h, will maintain the vehicle's position in the lane with minimum steering input from the driver. Intelligent Speed Limit Assist will read speed limit signs and, in conjunction with sat-nav, will display the current speed limit to the driver.
MG Pilot also includes Traffic Jam Assist, which enables the car to automatically follow the car in front at speeds below 56km/h, automatically steering, braking and accelerating within the same lane. If the vehicle in front comes to a complete stop, so will ZS EV, and if it moves away within a short period of time, ZS EV will do the same.
Alongside MG Pilot's active systems, a selection of warning and alert features complement the driver, maintaining safety and simplifying everyday driving. Fitted as standard with Forward Collision Warning, MG Pilot's frontal radars will trigger a warning message if the preceding vehicle decelerates rapidly, allowing enough time for a successful emergency brake application.
On Exclusive versions, drivers can be safe in the knowledge that they have excellent visibility with the advantage of Blind Spot Detection and Lane Change Assist systems. Monitoring the area behind the car's C-pillars, the Blind Spot Detection system will alert the driver, through the wing-mirror housed warning light, if the unseen area is occupied by another car. Exclusive versions are also equipped with Rear Cross Traffic Alert and Door Opening warning to mitigate the risk of collisions.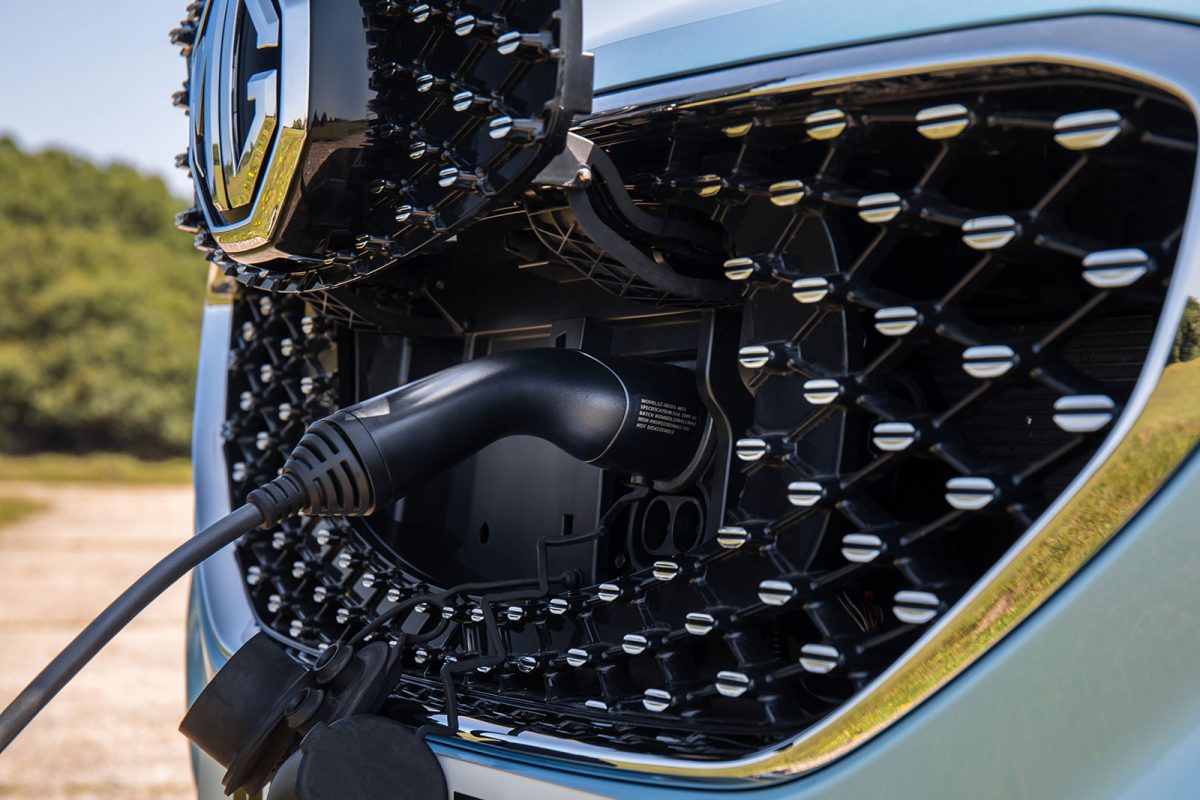 MG ZS Is Electric – Battery, motor, range and charging
Powered by a 44.5kWh, water-cooled lithium-ion battery, customers can enjoy a driving range of up to 265 kms from a single charge on the WLTP combined cycle. Using WLTP's city cycle the range is certified at 370kms.
ZS EV also offers three levels of regenerative braking to recover energy and increase range. When the driver releases the accelerator the car's electric motor converts the kinetic energy that would otherwise be lost during standard braking into electricity. The additional charge is fed back into the battery, maximising the efficiency of the car and allowing the driver to travel further between charges. Drivers can choose the degree of energy recovery that suits their driving style and efficiency needs. Using a control switch in front of the gear selector, the driver can pick from three levels of intensity, as well as turn the system off. Level one will implement a small amount of regeneration, with much of the braking still dependent on the vehicle's brakes. Level three offers the greatest regenerative benefit, offering near one-pedal driving with minimal need for the brakes, improving the lifespan of the parts, increasing efficiency and reducing ownership costs. The battery pack is comprised of 18 cells and weighs just 280kg, providing competitive performance without generating any emissions. Managed by MG's Intelligent Battery Temperature Control system, the battery pack is insulated from external temperature variations, delivering the optimum power and range whatever the weather.
Driven by a permanent magnet synchronous electric motor mounted above the front axle, ZS EV delivers 353 Nm of instant torque to the road via the front wheels. With 105 kW of power, the equivalent of 143 PS, ZS EV will accelerate from 0-100 km/h in 8.5 seconds, reaching a top speed of 140km/h.
ZS EV comes as standard with a simple to use automatic transmission, controlled by the Rotary Gear Selector in the centre console. Engineered to provide ultimate refinement in all driving conditions, owners benefit from a stress-free driving experience over long distances and in stop-start city traffic.
Designed to achieve dynamic handling and chassis feel, ZS EV's powertrain has been intelligently packaged to achieve a low centre of gravity. Housed underneath the passenger compartment as part of ZS EV's flat-floor architecture, the balanced distribution of weight keeps ZS EV planted to the road through the corners.
Charging ZS EV could not be easier thanks to its combined CCS and Type 2 port, mounted within the front grille for easy access from either side of the car. The CCS plug is an enhanced version of the Type 2 plug, with two additional power contacts for the purposes of quick charging and supports AC and DC charging power. Featuring rapid charging capability, ZS EV can charge from 0-80% in just 40 minutes from a 50 kW charging station. At home, ZS EV can recharge on a standard 7KW home charger in six hours allowing customers to simply and easily fully charge their ZS EV overnight. In emergencies, the car can also be charged via a standard 3-pin plug.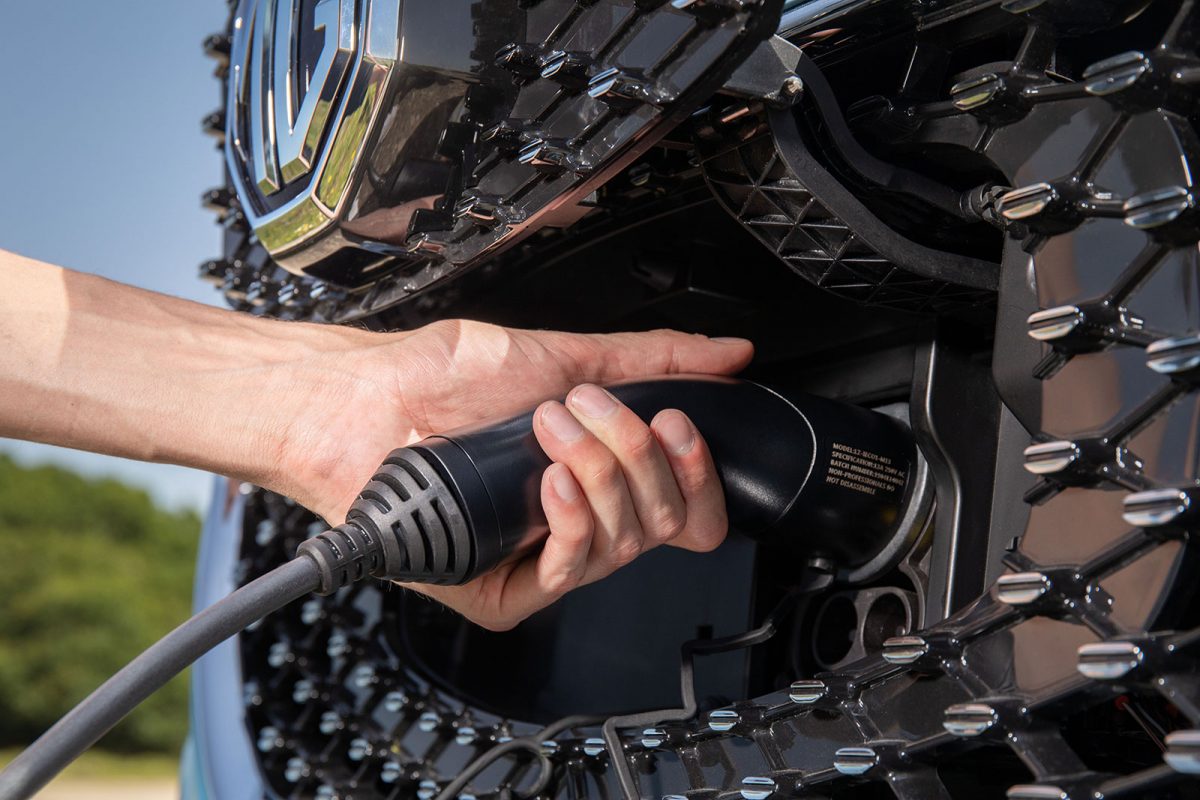 Exterior Design – Contemporary and Conventional
In an age where electric and hybrid vehicles opt for unconventional shapes and styles, the ZS EV takes a bold and daring turn against the grain, presenting the familiar design of MG's best-selling ZS SUV. ZS EV embodies a powerful and expressive design language. The contemporary design of the car compares favourably with similar-sized, premium brand equivalents, once again underpinning and demonstrating MG's claim of exceptional value-for-money.
ZS EV bears the new face of the MG brand, first seen in the latest-generation MG ZS and MG3. Standing directly in front of the car it's impossible to miss the large MG logo framed perfectly within the impressive "star rider" front grille, inspired by the brand's heritage, but presented in a modern and contemporary way. When pushed inwards, the MG badge reveals the cleverly concealed charging port.
Tracing the wings and sides of the car, sweeping lines create smooth contours across the body and towards the rear, while neatly framing features such as the windows and wheel arches. The spokes of the new-style seventeen inch alloy wheels are designed to be light and extremely aero-dynamic, essential in an EV to maximise range.
The front daytime running lights and rear lights of the ZS EV make use of LED technology and feature distinctive "eye" detailing, granting the car a friendly and unique character.
Measuring 4314mm in length, 1809mm in width and 1620mm in height, ZS EV is a compact and agile SUV. Rich, bold colours including Pimlico Blue, which is exclusive to ZS EV, create a brilliance and stunning depth, enhancing the streamlined body and dynamism of the car.
The overall interior and exterior design of the new MG ZS EV reflects the combined dedication, passion and creativity of the brand's Advanced Design Studio in central London and SAIC Design Centre in Shanghai. Together, the teams have painstakingly worked to develop a stylish and premium, yet affordable and accessible electric vehicle.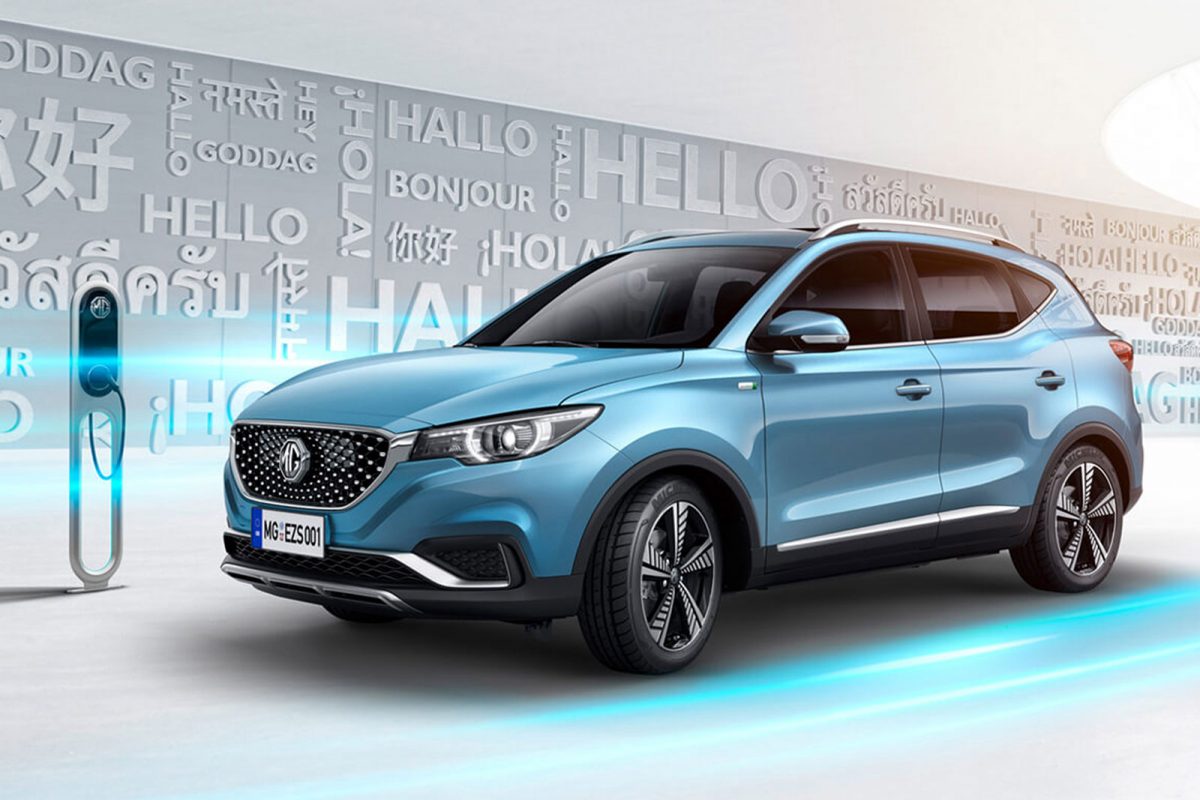 Peace of Mind – Warranty and aftersales
MG is pleased to offer its famous 7-year / 80,000-mile warranty on ZS EV, and it applies to the lithium-ion battery too. The generous package gives customers complete peace of mind, guaranteeing that fully trained MG technicians will always be on hand with genuine replacement MG parts. Drivers can be confident that ZS EV's long manufacturer warranty reflects the high build quality and customer care on which the manufacturer has built its reputation. The 7-year warranty is available on ZS EV from launch and is even fully transferrable to future owners.
MG now has a dealer network of over 100 sites, providing national coverage across the UK. To support the launch of ZS EV, as well as future hybrid and battery electric products by the brand, MG has already implemented its extensive Hybrid and Electric Vehicle Standards. These standards include an overview of hybrid and electric vehicle training, as well as requirements for electric vehicle charging at dealership sites.
MG's Hybrid and Electric Vehicle Standards ensure that every MG dealership features a minimum of two on-site charging points – a 7kW wall-mounted charging point in the workshop and a 22kW charge point close to the showroom entrance. The Standards equip MG's existing sales staff and technicians with the knowledge to support customers in both the sale and aftersales care of electric cars. Thanks to the introduction of a nationally recognised Electric Vehicle Awareness training course, dealership staff and technicians are provided with information on safe working practices.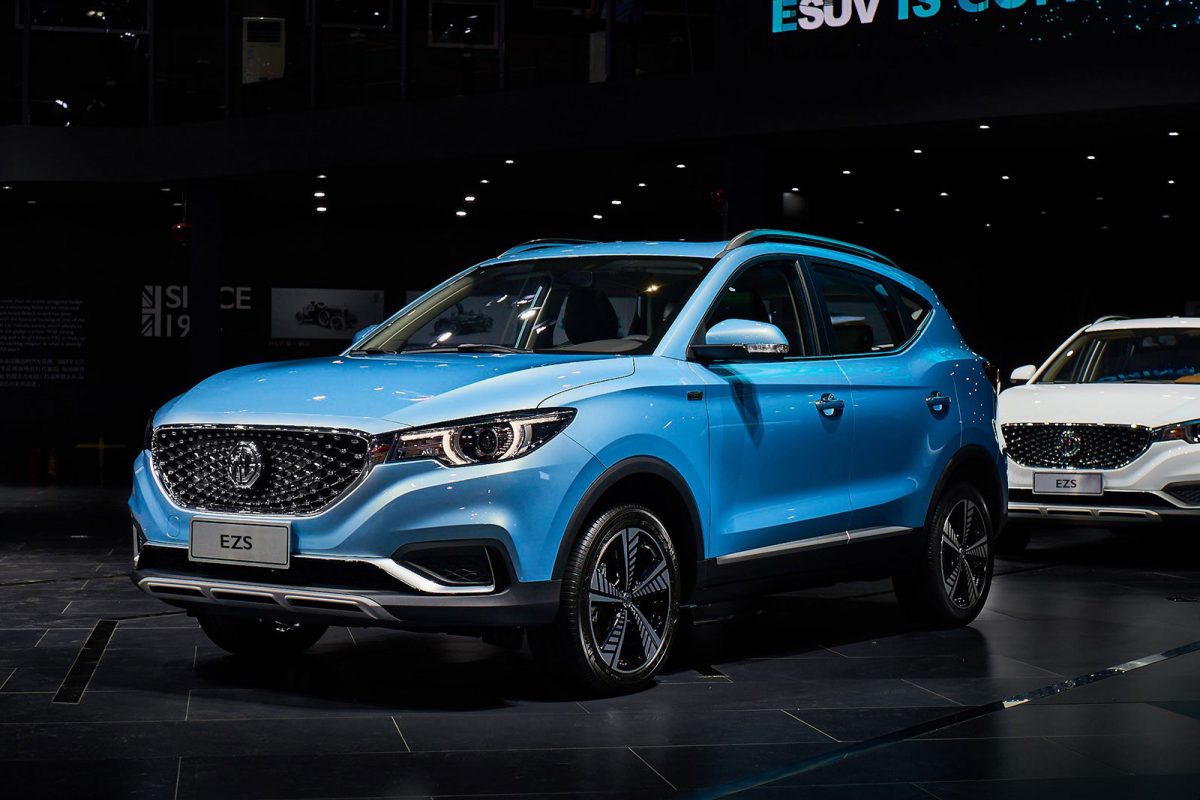 About MG
Over the past two years, MG Motor UK has become firmly established as the UK's fastest-growing car manufacturer. Sustained growth and investment have enabled the brand to rapidly expand its dealership network and lay the foundations for a long-term growth strategy. This will see the company introduce a number of new products over the next few years, starting with the ground-breaking MG ZS EV.
In 2018, MG Motor UK achieved its highest annual volume with more than 9,000 cars sold, more than double the previous year. MG has continued its rapid growth in 2019, with June year-to-date sales up 47% versus 2018.
Designed and engineered in the UK and Shanghai, MG's current range features the popular MG3 hatchback and the MG ZS compact SUV, in addition to the brand-new MG ZS EV.
Credit: MG Motor UK